Human Nutrition
Based in the Manawatu, 4Nutrition are New Zealand's leading life coach for people wanting to make big improvements in their lives. We give you premium quality products from NEW IMAGE to help you achieve a better, leaner, fitter, healthier you. We guarantee the best possible products with optimal results.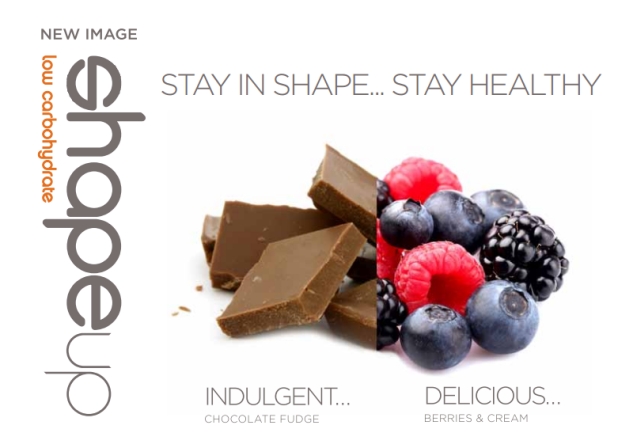 Get in Shape – Stay in Shape – Be Healthy
Stay in shape, stay healthy – and avoid the Yo-Yo Dieting Syndrome
Do you lose weight and then put it back on again? Are you stuck in a cycle of endless dieting? Often when we go on a diet, we work really hard to reach our goal, only then to go back to our old eating and lifestyle habits. What happens next is all too familiar… we start to put the weight back on, our levels of excess fat start to increase and we gradually become less healthy again. We then typically search for a new diet, and the yo-yo dieting cycle begins. These repeating cycles of weight-loss and weight gain can have very negative effects on our health. They can also give rise to negative psychological effects as we feel a sense of failure, discouragement and depression – which in turn can result in even more weight gain!
Teach your body to accept its new metabolic rate
To stop the dreaded yo-yo cycle you need to help your body resist its natural urge to return to its pre-diet condition. During the weight loss phase of your programme your metabolic rate will probably change as you lose body fat and become lighter. After reaching your goal you need to maintain control of your body as it becomes used to the 'new you'. This process takes time. During this period you need to ensure you keep the weight off by keeping your appetite under control, resisting cravings for unhealthy snacks and comfort food. Commit to healthy living by ensuring you are maintaining your new lifestyle habits and fuelling your body systems with good daily nutrition.
Just one Super Shake a day…
will control your carbohydrate intake
will keep you satisfied
will keep you at your ideal weight
Just one Super Shake a day will help control your food intake and will help keep you at your weight loss goal. Whether you choose to have a shake for breakfast, lunch or dinner is up to you – whatever fits in best with your lifestyle. The Super Shake is a great alternative to a typically carbohydrate dense breakfast, or some unhealthy fast food at lunch time, or ideal if you are too busy to prepare an evening meal.
Commit to a 90 day Programme
Just one Super Shake a day for 90 days and you'll see and feel an amazing difference…
If you've just completed your weight loss programme and reached your ideal weight – using ShapeUp will enable you to successfully stabilize your metabolic rate. An end to all that yo-yo dieting!
If you find yourself starting to put on a few kilos or are becoming a little sluggish – starting a 90 Day Programme will get you back in shape and feeling more energised.
If you just need a healthy alternative for an easy meal – make sure you have a couple of cans of ShapeUp available so that you can quickly make up a delicious Super Shake of your choice.
Healthy nutrition & weight management
This scientific meal replacement and weight maintenance formulation has everything your body needs for a satisfying, healthy meal. It's easy to make, just mix in water or milk, and most importantly and it tastes delicious too!
20g protein
only 0.6g sugar
26 essential vitamins & minerals
Helps promote fat oxidation & mobilisation
Accelerate your weight management efforts by removing stubborn excess body fat. Green tea extracts (including catechins) may help regulate fat oxidation (burning of calories). Lipotropic agents (choline and inositol) helps mobilise and fat and encourages your body to use it as fuel.
Potent Anti-oxidants from New Zealand Fruit Extracts
Provides a complete range of antioxidants derived from grape seeds, boysenberries, blackcurrants and kiwi fruit. Four times the antioxidant activity of vitamin C (6895 ORAC units/gr) Ellagitannins and catechin components also known to help maintain a healthy body weight.
Stay in Shape… Stay Healthy
Bee Venom
Intensive Anti-Aging Moisturising Cream
Aging is not so scary anymore
Benefits:
Bee Venom Intensive Anti-Aging Moisturising Cream is a multifunctional cosmetic which kickstarts the body's own production of Collagen and Elastin – the key factors to restoring younger, healthier, skin by decreasing the appearance of lines and wrinkles. It works in harmony with the body's systems and is non-invasive or painful like surgery, skin peels, or injections.
Alpha Lipid Bee Venom Intensive Moisturising Cream is the only skin care product containing New Zealand's Alpha Lipid Colostrum which provides TGF (Transforming Growth Factors) to promote skin cell repair and renewal.
Key active ingredients:
Bee Venom
Natural exotic oils such as jojoba, almond, macadamia seed
Manuka Honey
Evening Primrose
Shea Butter
How does New Image extract the Bee Venom?
The bee venom is ingeniously extracted when the bee lands on a glass pane which has a light electrical current running through it. The bee reacts by stinging the glass and leaves the venom behind to be collected, without the bee dying.
How to use:
This product is suitable for use by all men and women except those allergic to bee stings. We recommend to test on a small area of skin before first use and wait 20 minutes. If there are no adverse effects then continue applying to your face. Everyone's skin is unique so you might experience a slight tingling sensation which is normal. You can also use this product as a Night Cream. Apply a generous layer over the face and neck and leave on overnight. In the morning use it again as a Day Cream. For best results apply twice daily and use within 12 months after opening.
50g/ 1.76oz
Check out Ultra Diet - not just a diet, but a complete health and weight management system. The need for weight management is more prevalent these days and our reliance on convenient, takeaway meals and fast foods has contributed to more and more people seeking weight management support.

New Image's Weight Management range offers a comprehensive system that, in conjunction with a healthy diet and lifestyle, will help you see and feel the difference.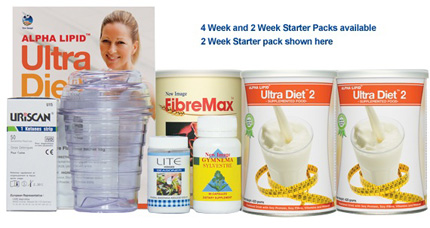 The programme includes:

Alpha LipidTM Ultra DietTM 2
(protein drink)

FibreMax
(body detox)

Gymnema Sylvestre
(for glucose control)

Lite Seasoner
(low sodium alternative
to table salt)

Uriscan
(ketone sticks)

4 Week Starter Pack - Code 2661
2 Week Starter Pack - Code 2660



Alpha Lipid Ultra Diet 2

Support for normal weight management and meal supplement


Key Features:

Integral component of the Alpha LipidTM Ultra DietTM 2 weight management programme
Provides 40 grams protein per day – up to 66% of daily requirement*
Supports blood sugar balance satiety in between regular meals and healthy muscle mass

Active Ingredients:

Comprehensive blend of isolated non GMO soy protein (76.3%), fibre and vitamins and minerals providing


9 essential amino acids
11 Vitamins
12 Minerals
New Image is a pioneer in high quality bovine colostrum, sourced from the happiest cows in the world. New Zealand's pasture-fed, free roaming cattle supply our colostrum, which is harvested under strict health and animal welfare regulations. Colostrum is a gift from nature to support everyday vitality, immunity and healthy ageing.



Alpha Lipid Lifeline

The original colostrum breakfast drink


Key Features:

Alpha Lipid®'s unique formulation has added calcium for bone and muscle health

Supports:
Healthy immunity
Gut health and digestive comfort
Healthy energy levels


Active Ingredients per dose:

2,000mg Bovine Colostrum providing:
300mg immunoglobulins
1,000mg calcium
1 billion CFU probiotics (Lactobacillus acidophilus & bifidobacterium)
Contains key vitamins and minerals


Dosage:

1 ½ scoops (16g)
Mix with 150ml of either water or milk – shake well in a Turbo Shaker to combine
Take 30 minutes before eating
This product is not recommended for use by children under the age of 5 years, except under advice from a medical practitioner.


Code / Quantity:

Related Products:

Colostem®
Cellworx®

Alpha Lipid® Tablets
Alpha Lipid® Capsules
Turbo Shaker




Aloe Vera Drinking Gel


Naturally soothing



Key Features:

Supports digestive comfort

Supports bowel regularity and bowel comfort

Supports healthy immunity


Active Ingredients:

Dosage:

Mix 25ml of Aloe Vera Drinking Gel with 200ml of water, juice or other beverage Take 1-2 times daily Seek advice from your physician before using this product if you are pregnant


Code / Quantity:

Related Products:

Alpha Lipid Lifeline®
Fibre Max®
Omega CoQ10
K28®
Ultra Diet® 2



K28 - Energy Plus

Energy plus meal replacement



Key Features:

Supports energy production
Provides nutrients key to normal metabolism
Supports people who want to perform at their physical best

Active Ingredients per 15g serve:

Comprehensive blend of isolated soy protein, milk powder, fibre, vitamins and minerals providing:
9 essential amino acids
11 Vitamins
13 Minerals




Omega CoQ10

The spark of life



Key Features:

Fish oil supports joint comfort and mobility
Fish oil and CoQ10 support a healthy heart and cardiovascular system
CoQ10 supports natural energy production and acts as an antioxidant to help protect and support cellular health.

Active Ingredients per capsule:

1000mg Fish oil providing:
180mg Eicosapentanoic Acid (EPA)
120mg Docosahexanoic Acid (DHA)
30mg Ubidecaranone (CoQ10)

Dosage:

Take 1-2 capsules daily with food
If you are taking Warfarin or other blood thinners consult with your physician before using this product




CARB-BAL (Gymnema-Plus with white kidney bean

Balancing your carbohydrate uptake



Key Features

Forms part of the Alpha LipidTM Ultra DietTM 2 Weight Management Programme.



Enhanced formulation now with White Kidney Bean extract which supports the maintenance of ketosis by balancing the amount of carbohydrates absorbed from your diet. Gymnema, Fenugreek & Chromium support healthy blood sugar and healthy energy throughout the day. This formulation helps to manage sugar cravings and supports healthy weight management.



Suitable for vegetarians.



Active Ingredients

210mg Gymnema (Gymnema sylvestre) dry leaf

Equivalent to concentrated extract 21mg

2,500mg White Kidney Bean (Phaseolus vulgaris)

Equivalent to concentrate extract 208mg

600mg Fenugreek (Trigonella foenum-graecum) dry seed

Equivalent to concentrate extract 150mg

15.5mg Chromium Yeast

Equivalent to Chromium 31ug



Dosage

Adults: One capsule with water before meals 1–3 times daily



Code/Quantity

61321 / 90 capsules

Advisory: Diabetics should have their blood sugar levels monitored by a health professional.

Always read the label and use as directed. If symptoms persist see your healthcare professional.
Business Opportunity
Looking for motivated and passionate people interested in making a difference to the health and wellbeing of their family and wider community to partner me with a proven business model with the best training and education program available which can provide infinite potential.

Please contact us to ask questions about or to order any of these products